How To Include Your Child In Your Wedding Ceremony?
I've shot a lot of weddings where the weddings welcomed kids, and I've also shot weddings where they say "no kids." But, most of the weddings involve them and there's so many unique ways that clients have come up with for how to include your child in your wedding ceremony. Whether or not it's your own children or nieces or nephews, I love seeing all the different ways that people incorporate them. So I'm here to share with you some of the ideas I've seen and things I've learned by having kids myself!
Tip 1: Give Them Things To Do
First, including your child in the ceremony. Traditionally, they are flower girls and ring bearers. But, kids can be nervous in these positions. My daughter was specifically nervous as a flower girl. Something that helped was the bride sent her a special little gift in the mail asking her to be her flower girl. And then, she sent her some photos of dresses she can pick out, and helped her be involved in that process. The same thing for the ring bearer! By asking them, giving them a gift, and asking them to be involved, that'll help them be excited about it and feel included. They'll just love it!
Tip 2: Give Them Non-Traditional Roles
But maybe you're asking how to include your child in your wedding ceremony in a non-traditional role? This works really well with older kids. You can make them something like guestbook attendees, or a greeter for the wedding or the reception hall. Sometimes people who have children will include the kids in the bridal party itself, outside of being a flower girl or ring bearer. Instead, they are selected as a best man or maid of honor. And that's something that's super special for them!
Tip 3: Include Them In The Rehearsal
Thirdly, it might seem really simple, but a way to include your kids in the wedding is to make sure they are included in the rehearsal. If they're a ring bearer or a flower girl, let them walk down the aisle, and do it multiple times so they get to practice! It's really helpful for them and lets them know that they are wanted and have important roles!
Tip 4: Remember That They Are Just Kids
Finally, remember that kids are kids! If they're silly walking down the aisle, or maybe having a full on meltdown instead of tossing flowers, that's okay! Everyone's here for the wedding and they love that you included your kids. Just knowing that things won't necessarily go perfectly can be comforting in its own right. Just go with the flow and prepare yourself for anything to happen and you'll be fine!
I've seen a lot of fun experiences with kids walking down the aisle. Some kids are scared, won't look at anyone and bolt down the aisle. Sometimes they get scared and their dad has to pick them up and carry them. It's all okay. That is how families are made. Besides, kids at weddings always make it so much sweeter.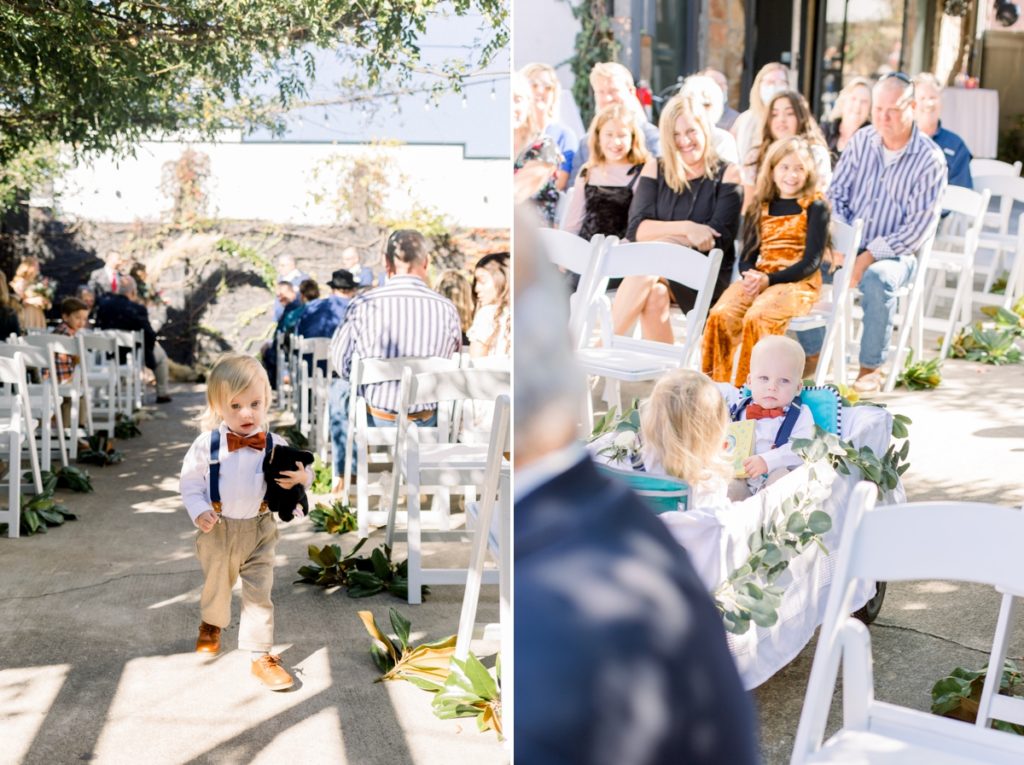 Emily Quigley is a wedding, engagement and newborn photographer in Northwest Arkansas. She's been featured in Glamor and Grace, Aisle Society and several other online websites. She's a veritable pro when it comes to knowing how to include your child in your wedding ceremony. So, Click here to get your booking today!
---
If you liked this blog post, check out:
Why You Should Do a "First Look"
First Look Ideas for Your Wedding Day
Wedding at Cooper Chapel – Bella Vista, AR (Jason + Jamar)
Wedding at The Garden Room in Fayetteville, AR (Jillian + Craig)
Engagement Photos in Downtown Little Rock, AR (Madi + Ty)